Only about 20% of dropshippers succeed in the business. To succeed, you must get the first steps right. You have to choose a niche that will work for you, select which marketing channel to use and where to host an e-commerce store, and then contact the right suppliers.
Finding a good supplier is crucial for your business. A great supplier will deliver quality goods on time while charging you low enough for high-profit margins. Using AliExpress provides the benefit of a large pool of suppliers to choose from. AliExpress has more than 100 million products on sale.
In this guide, we will show you how to contact AliExpress suppliers for dropshipping and how to find the best suppliers for your business.
Step 1: Find a dropshipping niche where you think you can add value
The very first step is to select a profitable dropshipping niche. This is the foundation of any successful e-commerce store.
Choosing a niche does two things for you. One it narrows down your audience. This means that you're not selling everything to everyone. So, you understand and serve people better. Two, it allows you to be an expert in that niche.
Some profitable niches include skincare, haircare, jewelry, gadgets, home improvement, fitness, and so on. Focus on a sub-niche, for instance, serums and moisturizers. Look at what competitors are doing. See if there's a way you can improve on their work. This is how to select a dropshipping niche.
Tools like Aliinsider give you lists of profitable and trending AliExpress products..
Step 2: Use keywords to search AliExpress suppliers and make a supplier list
After you've chosen a niche and decided on what kinds of products to sell, go on AliExpress and use keywords to find products.
Use long-tail keywords that will show specific results. For example, "sensitive skin moisturizer", "pure aloe vera gel", etc. In other niches, you can have something like "tableware set bowls and plates" or "earrings for women."
What if you don't know what keywords to target? There are a few ways to find the right keywords. One method is to use the AliExpress search bar.
When you click on the search bar, there's a drop-down of trending keywords. To get a keywords list that's specific to your niche, type in a general niche term. For example, "sensitive skin." AliExpress will pull up keywords like "sensitive skin spray deodorant", "sensitive skin hydrogel eye pads", and "sensitive skin products pink."
Another method is to use product research tools like Niche Scraper and Aliinsider.
Use long-tail and specific keywords that display exactly the kind of products you're looking for. This will reduce time wastage and improve the quality of search results.
Go through the search results and find products that you want to sell. Go to each product page and save information about the supplier. Make a list of the sellers you want to partner with.
Step 3: Contact an AliExpress Supplier for Dropshipping – Two Methods
AliExpress lists products and information on sellers. This makes it fairly easy for dropshippers to reach suppliers. To contact an AliExpress supplier for your dropshipping business, there are two ways to go.
1.Use the Message Center
The easiest way to reach an AliExpress supplier is through the message center. They usually respond in a matter of hours. The bigger stores have virtual assistants.
a.Through the official store page
Step 1: Log in to AliExpress
Step 2: Find the product you are interested in
Step 3: Click on the product to view more information
Step 4: Click on "Visit Store"
Step 5: From the official store page, click "Contact"
b.Through a particular product page
Step 1: Find the product you want to order
Step 2: Click on the product to view more information
Step 3: Click "Contact"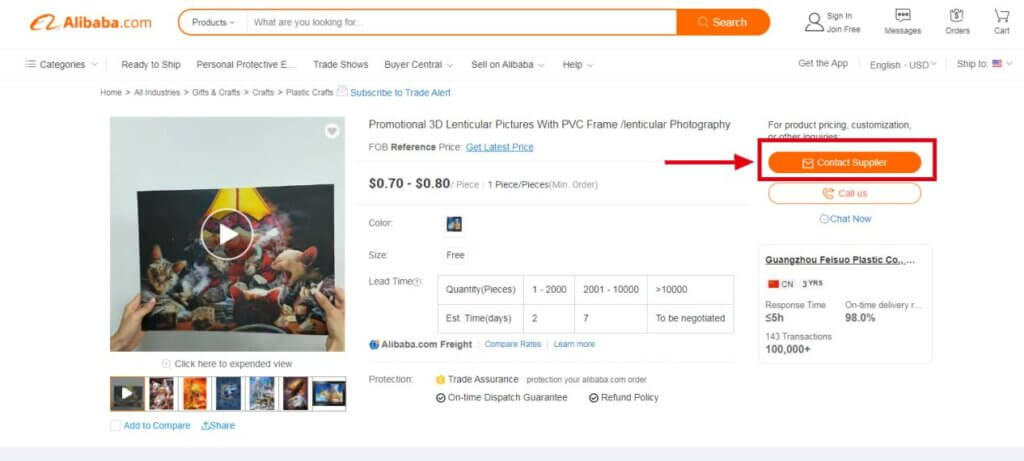 Pros and Cons of using the message center
Pros
It's easy to send a message
It is more convenient for the seller to respond
Cons
You are not allowed to view messages sent by the store's website. Take a screenshot in case you may need it.
It's not official
2.Use Email
We recommend that you start by sending an email. Email allows you to begin a business relationship with the seller. You won't have to introduce yourself again each time, and email stores messages so you have something to refer to when you call them.
Step-by-step process
Step 1: Find the email address of a seller
Step 2: Send a short email detailing who you are and what you need
Step 3: Follow up after a few days if you get no response
How to find the email address of AliExpress suppliers
AliExpress suppliers usually include contact email addresses in product pages. Scroll through a product's page to find the supplier's email address.
Also, visit the store's official page and scroll through their profile. They often include contact email addresses. You may even reach a supplier through the message center and ask for their email.
Pros and Cons of using email
Pros
Email is formal
Allows you to start a business relationship
Allows you to reference previous emails
Cons:
The seller may not respond quickly
Email prolongs the communication time
Note that some stores include other contact options like WeChat and WhatsApp.
Step 4: send effective messages to AliExpress suppliers
Get to the Point
The sellers on AliExpress are not new to dropshipping. Don't make your emails long and filled with unnecessary details. Go straight to the point.
Mention who you are and the business you do. State whether you want to buy in bulk and then have them fulfill orders as they come in. Mention whether you want them to remove any generic labels and add customized labels. Ask them to package your products for dropshipping too.
Be brief and clear. A seller will be more likely to get back to you.
Use a Message Template
A template greatly reduces the time you spend crafting a message. With a message template, you can just scan the product page, see what information you need to include in your email, and then add the info to your template.
Let us share a tried and trusted message template that you can use to contact AliExpress suppliers for dropshipping.
Salutations
A "Hello" or "Hi Supplier" is good enough. Use their first name if you have it. For example "Hi, Mr. David. How're you?"
Introduce yourself and what you want
In one sentence, state what you want with them. For instance, "I'm looking to dropship this product." Include a link to the product, if necessary. Also, add the locations of your customers.
State any changes that you want to be made to the product
For example, "I want to private label the product with my logo." Ask for an increase or decrease in product length or width if you want.
Ask for any additional info you need
If there's any other thing you need, ask the supplier. For instance, "I would like to have more product images in PNG format. Please send me a rate sheet for buying in bulk."
Conclude your message
End by thanking the supplier and asking him to get back to you. "Thank you. Looking forward to hearing from you soon. Regards, Mr. John Doe."
In total, the template is:
Hello,
I want to dropship this product to the USA and Europe.
[product link]
I want to private label the product with my logo. Please send me product images in PNG format and a rate sheet for buying in bulk.
Thank you. Looking forward to hearing from you soon.
Regards,
Mr. John Doe.
Tweak this template to make it yours.
How to find top-notch AliExpress dropshipping suppliers
For your dropshipping business to be successful, you can't just partner with any supplier. You have to do your research and find a top-notch supplier that will offer the best service. Here are ways to filter AliExpress suppliers to contact the best ones.
Locate AliExpress top suppliers
Now you know which product you want to dropship, partner with only top suppliers on AliExpress. To find them, search for the product. AliExpress will probably display hundreds of results.
One thing you can do is filter products by seller rating. This arranges products starting with the best-rated seller.
Another way is to select products whose suppliers have high positive feedback. This information is included on every product page. It shows you how many people bought the item, and how many percent gave positive feedback.
Another step is to look at the number of years the AliExpress supplier has been in business. Generally speaking, the longer the years, the more reputable the supplier.
Check product rating (0-5 stars) and customer reviews
AliExpress has a product rating system of 0 to 5 stars. Customers rate items and leave reviews on product pages.
Make sure you're dropshipping a product that is highly rated by customers. As a dropshipper, you want the lowest return rates possible. By dropshipping only highly rated products, it is likely that the supplier is also top-rated and that most of your customers will love the product.
Look for products rated 4 stars and above. Also, look at customer reviews. Take time to read the negative reviews in particular.
Check the offered shipping methods (must include tracking number)
Top suppliers on AliExpress often provide several shipping methods. They offer standard shipping plus other methods like DHL or FEDEX. Offering multiple shipping methods allows you to compare and select the safest and fastest route for your customer.
Make sure that the supplier offers shipment tracking. Scroll through the product page to see if the supplier includes a tracking number service.
Check the offered buyer protection and return options
Reputable AliExpress suppliers provide the buyer with some protection and return options. Make sure to partner with suppliers who offer at least 30-day buyer protection. They should also have a favorable return policy.
To wrap things up…
No AliExpress dropshipping business can thrive if no top-rated supplier is working with them. As a dropshipper, you must do the hard work of finding the suppliers that are just right for your business. Contact and partner with multiple AliExpress suppliers for dropshipping and aim to build a long-term working relationship with them.
Bestfulfill is a top-notch dropshipping agent that specializes in making dropshipping easier for online businesses. They have many years of experience in contacting suppliers and negotiating with them. Contact Bestfulfill to find the AliExpress suppliers that will fit perfectly for your business and customers.
FAQs
Do I need to contact an AliExpress supplier before dropshipping?
Strictly speaking, you don't need to contact an AliExpress supplier before dropshipping. You simply have to purchase a product and input your customer's shipping address.
However, speaking with an AliExpress supplier is very useful for dropshippers. One, by reaching the supplier, you can ask them to remove generic labels and do custom packaging for you. This boosts your dropshipping brand. Second, you stand to benefit from exclusive discounts. Some products demand that you contact a supplier. An example is private label jewelry.